We offer
Language services covering all of your multilingual needs
What Are Your Customers Speaking?
1.3 b

Chinese
295 m

Arabic
500 m

spanish
Interpretation Services

Over The Phone Interpretation
Our professional, specialized, certified, fully-vetted interpreters are on call 24/7/365 in over 200 languages to help out your non-English speaking clients.
Learn More About Phone Interpretation On Site Interpretation
We work with over 5000 on-site interpreters in all 50 states and beyond. We fill requests in all fields and industries big and small.
Learn About On-Site Interpretation
Marketing Translations Services


Website Localization
Translating your website is one of the most cost-efficient ways to communicate globally and connect deeply with your non-English speaking clients. We localize all written website content, transcribe, translate, and record mp3 audio files, along with providing subtitles for any mp4 video content. Our staff of native-speaking translators deliver finalized translations in all file formats.
SEO Translation
Our Multilingual SEO Translation service takes keyword search volume and competition into consideration during the translation process. With Multilingual SEO translation, you receive alternative keyword checks, onsite and offsite adjustments to translated website, search engine submissions, classifieds, profile creations, business listings, and bookmarking. This is a great addition to your website localization package to ensure top performance in new markets.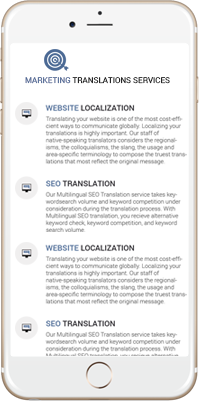 Marketing Materials
Launching a marketing campaign in a new language can be challenging. It is best to market your product in such a way that speaks to your target audience culturally. A direct translation many times does not do this. We will make sure that the translation conveys your message appropriately culturally and linguistically, simultaneously implementing your marketing strategy into the translation of your materials.

Desktop Publishing
We place your newly translated content correctly into your native files. Language either expands or contracts by up to 50% when going from one language into another. Adjustment of spacing, font size and style, and even content is some times necessary to complete the translation process. Syntax and grammar could also pose problems when placing newly translated material into native files. Our multi-lingual DTP team works in all file formats to make your native files flawless.
Testimonials
What Our Clients Say About Us:
Ready To Break Barriers?
Call Us Today


877-393-2424
Email Us Today


A Few Of The Companies We Have Served


Save